Closed call 2021-02-07: Up to six postdoc fellows in technologies for a digital transformation
Digital Futures postdoc fellowships aim to support talented early career researchers in pursuing their research ideas in a new research group, and to boost their future careers. The call is targeted towards applicants within three years after completion of the doctorate degree and is a mobility program.
Digital Futures is a strategic research collaboration between KTH Royal Institute of Technology, Stockholm University (SU) and RISE Research Institutes of Sweden AB aiming for a digital transformation. KTH has been tasked by the Swedish government to establish a strategic research environment for interdisciplinary research on the future technology for digitization.
The core research themes in Digital Futures are "Trust", "Learn", and "Cooperate" cutting across four prioritized societal contexts — "Smart society", "Digitalized industry", "Rich and healthy life", and "Engineering education".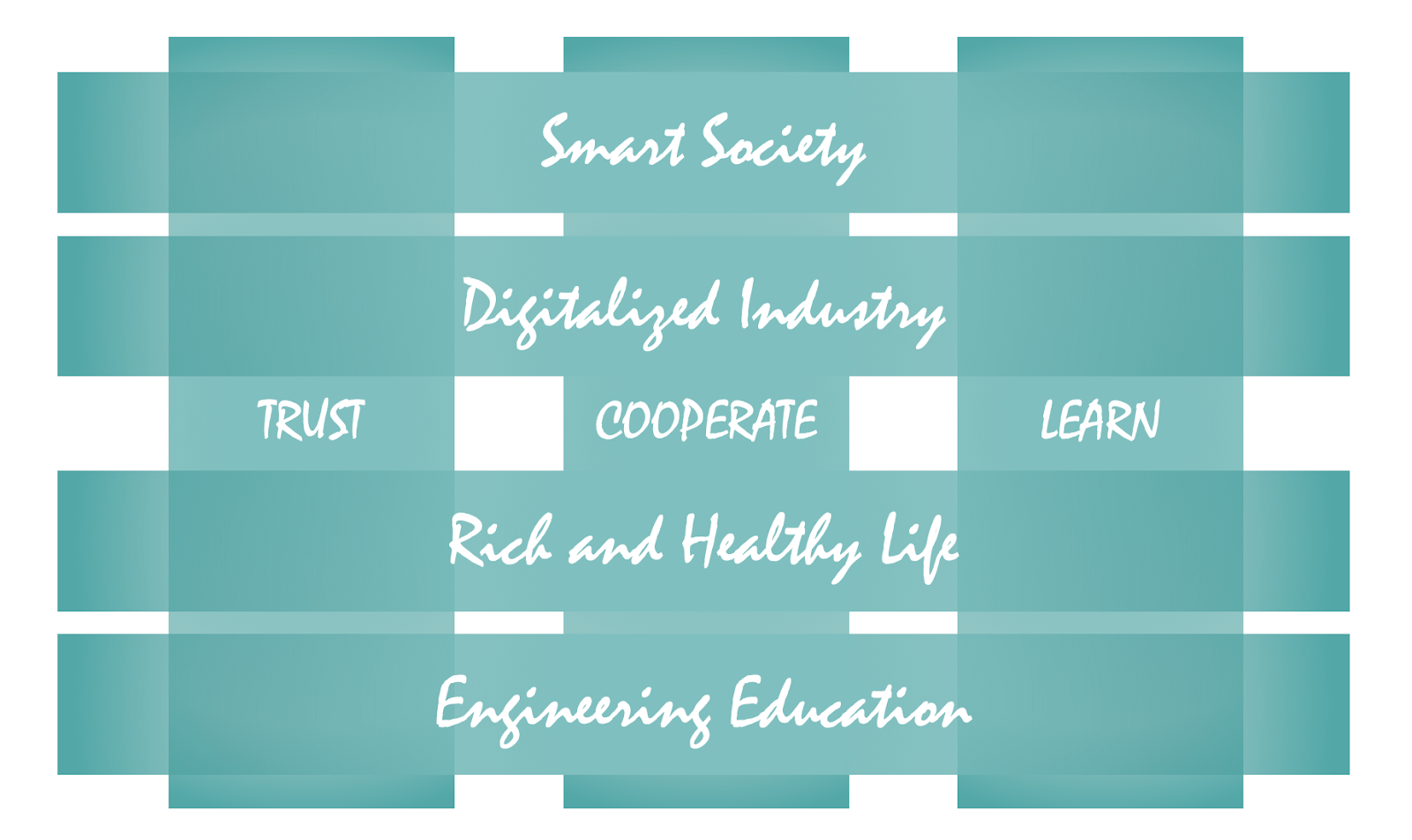 Figure: The three research themes Trust, Cooperate and Learn cut across the four societal contexts Smart Society, Digitalized Industry, Rich and Healthy Life and Engineering Education.
Digital Futures consists of researchers from all schools at KTH as well as from SU, RISE and external partners. Digital Futures physical location is in the award-winning building of the Architecture school at KTH Campus and the centre is led by Professor Karl H Johansson.
What the call offers:
Funding to pursue research ideas and a possibility to conduct research in a new research group at a leading university or institute that creates knowledge and expertise for a sustainable future. The funding includes salary costs for 2 years for each employed postdoc fellow.
A network of colleagues and peers with high ambitions in an open, curious, and dynamic environment.
An international workplace and environment.
Access to Digital Futures' resources, its network of academic and industrial partners, infrastructure and testbeds, events and happenings.
Mentorship and support in career development and research leadership education.
Application procedure for funding:
Candidates for the postdoc fellowships are invited to submit their postdoc project proposals with accompanying material to postdoc-call@digitalfutures.kth.se.  Last day for submission is 7th of February 2021. The submission should include a single .pdf in English with the following:
A cover letter that briefly describes motivation to apply for this postdoc fellowship. As there has to be a mutual interest between candidate and potential supervisor(s), the fellowship will come with an offer or several offers from supervisor(s) and co-supervisor(s). You may suggest a specific supervisor and/or co-supervisor at the time of submission. If so, please list 1-5 faculty members at KTH,  SU, and/or RISE Digital Systems Division researchers in the cover letter (max 1 page).
A postdoc project proposal of research activities, including how it ties to the research matrix in the Figure above. Please also list 3-5 keywords which characterize your research area of interest (max 1 page).
CV including relevant professional experience and knowledge.
A research statement describing past and current research (max 1 page).
Copy of diplomas and transcripts from doctoral studies. If a candidate is yet to obtain a doctoral degree, include diplomas and transcripts from Master studies. Translations into English or Swedish if the original documents have not been issued in any of these languages.
Eligibility
A doctoral degree or an equivalent foreign degree, obtained within the last three years prior to 15th of April 2021 (with some acceptable exceptions for special reasons such as periods of illness or parental leave, kindly indicate if such reason exists in your CV).
Stage 1 – Nomination
Researchers within Digital Futures environment (faculty at KTH, SU, and senior researchers at RISE Digital Systems Division that can act as postdoc supervisors) will be invited to nominate postdoc fellows among the submissions for Stage 2.
After Stage 1, the nominated candidates and their projects will be ranked in Stage 2.
Stage 2 – Ranking
The nominated candidates and their respective projects will be evaluated by a committee comprised of KTH and SU faculty, as well as RISE Digital Systems Division researchers. The evaluation process will adhere to and follow national and international standards based on the skills and merits of the candidate and the strength, originality, feasibility, and relevance of the proposed project as well as added value of the candidate and the project to Digital Futures.
When a number of submissions has been ranked, approved for funding and can move forward to the final stage, the respective hosts (KTH, SU and RISE) will announce positions for the candidates to apply for. To be eligible to apply for a position, the candidate must have passed Stage 1 and 2. All candidates will be informed about the outcome of Stage 2 (expected by the end of March 2021).
Stage 3 – Announcing positions and employment
In Stage 3 the respective hosts (KTH, SU and RISE) will announce a number of postdoc positions connected to the evaluated submissions. If a candidate has reached this stage, they will be asked to submit a CV and a personal letter to the official recruitment systems for the host organization to process the final stage, which is employment at either KTH, SU, or RISE.
Information
All submitted proposals, including documents and personal data, will be handled in accordance with national and international regulations regarding such data and will only be shared within a limited circle.  Information will be made accessible for appointed employees at KTH, SU, and RIS, who participate in nomination (Stage 1) or evaluation (Stage 2) of the postdoc fellowship submissions. The processing of your personal data is necessary for Digital Futures to be able to evaluate your submission. The submitted proposal, documents and personal data will be stored in KTH Box for no longer than 6 months from the date of the submission deadline. At any point in time the candidate has the right to withdraw from the application procedure and all data submitted along with it upon request.
For further questions please contact Anna Kiefer (COO, Digital Futures) or Jana Tumova (Associate Director Mobility, Digital Futures), postdoc-call@digitalfutures.kth.se.
Information for Digital Futures' researchers, who would like to nominate a candidate and their project
If you are interested in supervising a postdoctoral fellow, send an email to postdoc-call@digitalfutures.kth.se and we will contact you.