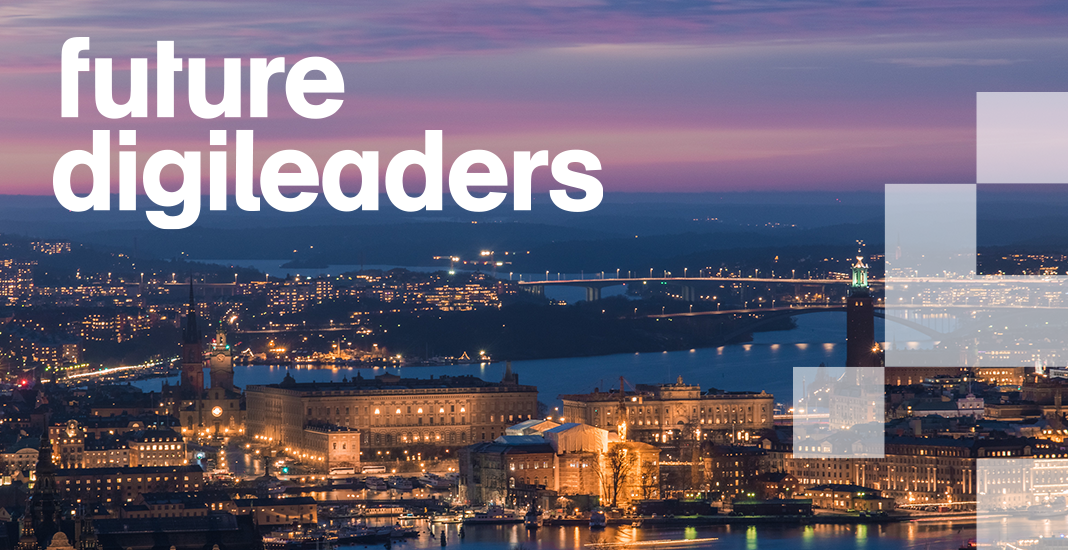 Future Digileaders '21
Future Digileaders is a yearly event for selected early career researchers interested in the broad area of digitalization who identify as women or are non-binary. The event consists of a career workshop with talks, panels, and sincere discussions. We cover professional development and provide opportunities to meet inspiring role models and to network with each other.
Link to application for Future Digileaders 2021
Future Digileaders '21
19 October 2021, 13:00 – 18:00 (1 pm – 6 pm) CEST (UTC+2)
PROGRAM
13:00  Welcome & introductory words by Anna König Jerlmyr, Mayor City of Stockholm
13:15. Keynote talk by Luigina Ciolfi – "Navigating multidisciplinary waters without a compass (and live to tell the tale)"
Luigina Ciolfi, is a Professor in Human-Computer Interaction, School of Applied Psychology at University College Cork (Ireland). Her specialities are human-computer interaction, user-centred design, CSCW, participatory design, technology for cultural heritage, teaching and training, project management, event organisation and academic writing.
14:00  Break
14:10 Ice-breaking activity
14:30 Panel A: Navigating academia and industry
with Mary L. Gray, Vinoba Vinayagamoorthy, Sahar Tahvili and Moira McGregor
15:20  Break
15:30  Panel B: What to expect from an academic career?
with Maryam Elahi, Naveen Bagalkot, Emily Öhman and Sonja Buchegger
16:20  Break
16:30  Panel C: Leadership and re-thinking the academic life
with Batya Friedman, Luciana Benotti, Narges Ahmidi and Johanna Rickne
17:20  Break
17:30  Networking
17:55  Closing
18:00  End of day
The event is a part of Digitalize in Stockholm 2021, an annual conference and meeting place for global thought leaders and rising stars engaged in transformation through digitalization in academia, industry, government and civil society. The Digileaders also have the opportunity to take an active role in the Digitalize in Stockholm conference, promoting interactions with researchers and industry players.
After these events, we expect that the Future Digileaders will:
gain insights into the joys and struggles of becoming and being faculty and awareness of a broad range of career paths and strategies one can choose from
have shaped values and practices that should be promoted in a good research environment
establish new connections to research and industry leaders and a network of international peers
understand the potential of digitalization research in a broader societal context, a peek into different areas of digitalization research, as well as knowledge about state-of-the-art research challenges and advancements.
Further career networking opportunities
Once travel restrictions are lifted, participants will be welcome to apply for a visit to the Digital Futures cross-disciplinary research centre in Stockholm, Sweden. The program will include research visits to KTH Royal Institute of Technology, Stockholm University and the Research Institute of Sweden (RISE) and excursions to industry to establish networking opportunities in Stockholm.
Organising Committee
Chair Marianela Ciolfi Felice, KTH Royal Institute of Technology
Airi Lampinen, Stockholm University
Claudia Núñez-Pacheco, KTH Royal Institute of Technology
Fatemeh Rahimian, RISE Research Institutes of Sweden
Asreen Rostami, RISE Research Institutes of Sweden
Yvonne Stuerz, KTH Royal Institute of Technology
Stacy Vallis, KTH Royal Institute of Technology
Contact: future-digileaders@kth.se
Links from previous years:
Article about Future Digileaders 11 Nov 2020