Curtain talks
Mathematics is the language of modern science and provides the foundation for digital transformation. Mathematical equations, inequalities, and formulae describe engineering insights and fundamental limitations in a compact and precise form. They provide a systematic way to manipulate relationships to develop new knowledge and understanding. 
Some of the important equations (inequalities) that are at the foundation of technologies for a digital transformation, now adorn curtains at the Digital Futures space. The goal of Curtain talks is to provide the background and explain the significance of these equations (and inequalities) for digital transformation of modern societies.
There is actually a story behind these curtains. Our own faculty wrote down all the equations by hand. They were later printed on fabric and now eight handcrafted curtains can be admired in the office of Digital Futures.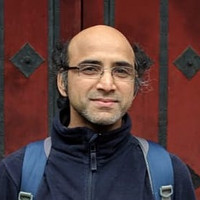 Arvind Kumar is Chair of Curtain talks and an Associate professor, Division of Computational Science and Technology, KTH Co-PI of research project Digitizing Brain Data for Health and Disease, Digital Futures.
Before moving to the KTH, he was a group leader at the Bernstein Center Freiburg, Faculty of Biology, University of Freiburg, Germany. Arvind Kumar did his post-doctoral training with Prof. Mayank Mehta when he was at the Brown University, Providence, RI.
He did his PhD in computational neuroscience at the University of Freiburg, under the supervision of Prof. Ad Aertsen and Prof. Stefan Rotter. Arvind Kumar is still associated with the Bernstein Center Freiburg and the University of Freiburg, Germany.
Xuyang Wu is Co-chair of Curtain talks. Xuyang Wu is a Postdoctoral researcher at the Division of Decision and Control Systems at KTH EECS, co-supervised by Prof. Mikael Johansson at KTH and Prof. Sindri Magnusson at SU.
He received the B.S. degree in Applied Mathematics in Northwestern Politechnical University, China, in 2015, and the Ph.D. degree in Communication and Information System at the University of Chinese Academy of Sciences, China, in 2020.
His research interests include distributed optimization and its applications at data science, smart cities, and IoT systems. More information can be found at his homepage: http://xuyangwu.github.io/.
Please feel free to contact Arvind Kumar or Xuyang Wu would you have suggestions for speakers or equations you would like to see!
To subscribe to Digital Futures seminar invitations, click here