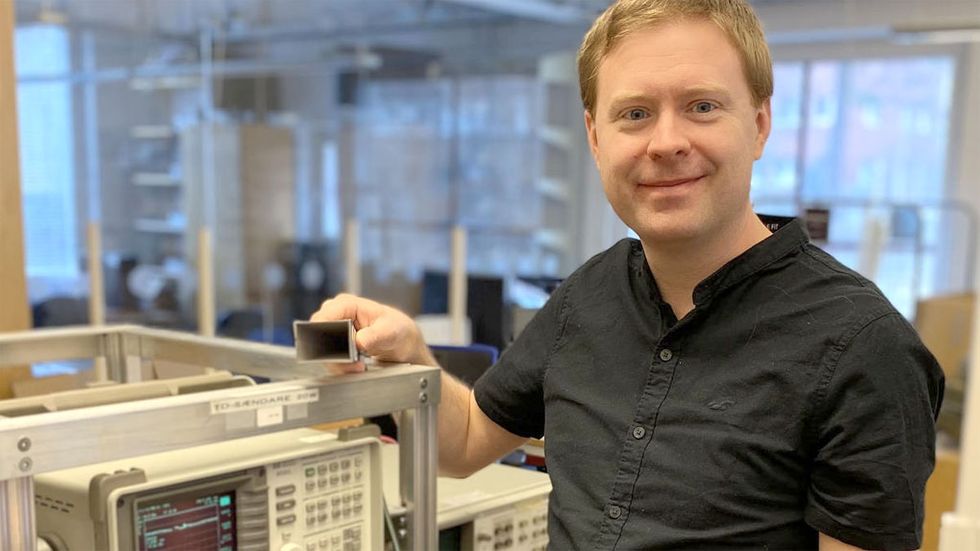 Emil Björnson – Associate Director for Seminars & Workshops and research-oriented influencer
Meet Emil Björnson – Associate Director for Seminars & Workshops at Digital Futures. Emil Björnson received the M.S. degree in engineering mathematics from Lund University, Sweden, in 2007, and the PhD degree in telecommunications from the KTH Royal Institute of Technology, Sweden, in 2011. From 2012 to 2014, he was a post-doc at SUPELEC, France. From 2014 to 2021, he held different professor positions at Linköping University, Sweden. In 2020-2021, he was a Visiting Professor at KTH. From 2022, he is a tenured Full Professor of Wireless Communication at KTH and a Digital Futures Fellow.
Hi Emil and welcome to Digital Futures, describe your role at Digital Futures and the seminar team supporting you?
– Digital Futures organizes an extensive seminar series, containing 1-2 seminars per week, given by internal and external researchers. We try to cover all the subject areas within the scope of the center and also provide a diversity of seminar types. We invite world-leading researchers to give distinguished lectures where they can share their latest insights in a keynote style. Fly High seminars give high-level overviews of research topics, while Dive Deep seminars focus on the technical details of recent research. Finally, Curtain Talks are focusing on the history and significance of particular equations that are found on the curtains in the Digital Futures hub. The seminars are live-streamed on Zoom and later uploaded on YouTube, but speakers who are physically present in Stockholm are encouraged to present on campus so we can also have a physical audience.

The seminar activities are supported by Arvind, Xuyang, Stacy, Asreen, Hao, and Stefanos who help me with inviting speakers and moderating the sessions. We also have a team of students who are editing the recordings and creating high-quality captioning. They are all doing a great job!
You perform research on wireless communications. Why do you find this so fascinating?
– Wireless connectivity is becoming essential to most aspects of our lives and people start taking it for granted. It is the necessary interface between humans and the digitalized world. Since the wireless data traffic grows exponentially year after year, and our quality expectations are also growing, the research community must continuously push the limits of the technology. We must deliver more, faster, and more robust connectivity while keeping the cost and energy consumption low. I'm fascinated by exploring the theoretical limits of wireless communications, in terms of performance and energy efficiency.
You have authored several textbooks, are on editorial boards, your papers have received more than 17500 citations, you filed over twenty patent applications and received several paper awards. You seem to be very busy and active – what motivates you?
– I have an inner drive to learn and understand complex research-oriented issues. When I have succeeded with that, I like to write books and blog posts, and record videos, to share my knowledge with others. I knew for a long time that I wanted to become a professor, but it is more of a coincidence that my topic became wireless communication. Since I have the same number of hours per day as everyone else, I try to be efficient and focus on the research challenges and tasks where I believe my skills are of most use.
You are dedicated to reproducible research, what does that mean?
– Research findings must be reproducible by others, otherwise, they are of no use. My research mainly consists of mathematical results and computer simulations. I am publishing everything with open access and I'm particularly sharing large amounts of simulation code along with my textbooks and scientific articles. This enables people to easily reproduce my simulations and also use them as a starting point when carrying out further research. I believe the research community can make swifter progress if we are making it easy for others to reproduce results, so that they can focus their time and efforts on being creative.
You have your own YouTube channel, a blog, and a podcast called "Wireless Future", together with Erik G. Larsson, Professor at Linköping University. Why are you spending time on these things?
– We have been experimenting with how to communicate with fellow researchers, students, and the general public using the new channels that social media enables. One part of this effort is to discuss the benefits and drawbacks of different technology components and research methods, in ways that don't fit into conventional scientific publications. Another part is to record lectures, tutorials, and keynotes so that they are available for anyone. The close interaction with readers and listeners is keeping us motivated. As social media allows us to show scientific thought leadership, I suppose I'm becoming a kind of research-oriented influencer.
Finally, tell us a little bit about yourself!
– I am 38 and used to travel a lot abroad with my family, before the pandemic. My kids are today around 10 years old but have visited 50 countries. Before they started school, they came along on many of my conference travels. When I'm traveling alone, I always bring my running shoes with me. Running through the city in the early morning is the easiest way to squeeze in some sightseeing in an otherwise dense traveling schedule.
Links:
Link to the profile of Emil Björnson
Emil Björnson awarded Tage Erlanders prize
Emil Björnson – elevated IEEE fellow