Season's Greetings from all of us to all of you!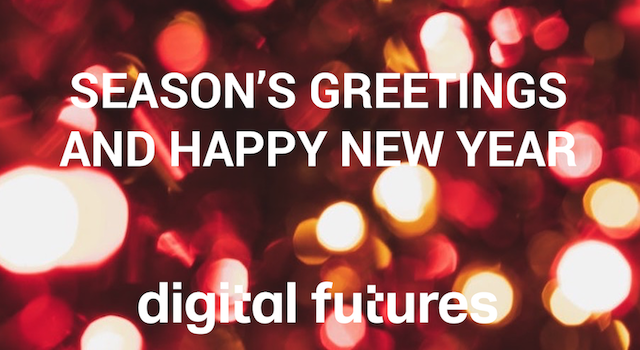 2020 has been a year as no other, with challenges few of us have experienced before. It has also been a remarkable first year for Digital Futures.
We have initiated a strategic research programme with exciting cross-disciplinary projects on different aspects of digitalization.
Digital Futures hub was fully established and Inaugurated October 1 with a program that featured speeches from, among others, the Minister for Higher Education and Research Matilda Ernkrans.
Soon after followed Digitalize in Stockholm 2020 on November 9-10, a fully digital event with some 550 participants from 40 countries. If you missed it – some of the much appreciated keynote talks can be viewed here. The Future Digileaders workshop on November 11, brought together some 80 talented young researchers from over 20 countries.
When we close 2020 we have enjoyed a number of seminars and lectures, some 18 Fly-high Fikas and 16 Dive-deep lunches. Topics have varied a lot – from Democracy-by-Design to New Perspectives on Classic Questions in the Theory of Graph Algorithms.
Our Distinguished lectures have been popular with speakers such as Munther A. Dahleh, Director of the newly formed MIT Institute for Data, Systems, and Society (IDSS), Moshe Y. Vardi from Rice University and last but not least Fosca Giannotti, director of research of computer science at the Information Science and Technology Institute "A. Faedo" of CNR, Pisa, Italy. January promises to be just as interesting!
Now I would like to thank you for being part of Digital Futures exciting journey during 2020 – the brilliant minds working in our research projects, collaborating partners, hardworking committees and staff at the hub, great presenters and participants at seminars, events and workshops – thank you all! We have a lot to look forward to in 2021, more to come in the next newsletter. Stay tuned!
Wishing you a happy and safe holiday season and a wonderful New Year 2021!

Karl H Johansson, Director Digital Futures