From super-chickens to superpowers – the Future Digileaders event attracted researchers from over 20 countries
This was the second edition of Future Digileaders, supported by Digital Futures, for selected early career researchers interested in the broad area of digitalization who identify as women or are non-binary. The workshop contained a brilliant keynote talk by Geraldine Fitzpatrick, panel discussions, opinions and questions shared by an enthusiastic audience from over 20 countries.
There was quite a number of applicants to the event this year, and some 70 individuals were accepted. Most of the participants, based in the UK, Europe, US, India, Australia and Sri Lanka, were postdocs or PhD students close to finishing, but there were also some young assistant professors.
One of the organizers, Associate Professor Iolanda Leite opened the Zoom-event and welcomed the rather diverse crowd. Many applicants came from Human-Computer Interaction and Human-Robot Interaction research areas, some from educational technologies, and then a smaller amount from areas such as formal methods, privacy and security.
Marina Petrova, Vice Director Digital Futures, continued describing exciting on-going and up-coming activities and instruments at Digital Futures:
– The aim is to establish Digital Futures as a data hub and enabler, consolidating research brain power. Once the recommendations for traveling and in-person gatherings are lifted, you will be invited to visit the Digital Futures cross-disciplinary research centre in Stockholm, to establish further networking connections. The program will include research visits to KTH Royal Institute of Technology, Stockholm University and the Research Institute of Sweden (RISE), as well as excursions to industry to further establish networking opportunities in Stockholm, Marina Petrova told the audience.
Staffan Ingvarsson, CEO Stockholm Business Region spoke about Stockholm being a vibrant and visionary city that dares to dream about a better future:
– Last year the Future Digileaders had a reception in The City Hall, I hope this will be possible soon again, says Staffan Ingvarsson.
In her keynote talk "From super-chickens to superpowers: leadership through kind connections", Geraldine Fitzpatrick – Professor of Technology Design and Assessment at TU Wien, explained how externally-defined performance metrics can create a hyper-competitive individualistic academic culture with consequent negative impacts on wellbeing and on the quality of scientific work. Addressing bigger societal issues around digital futures requires new forms of transpersonal leadership that values collaborative and interdisciplinarity ways of working, and promotes wellbeing.
Geraldine Fitzpatrick provided some piece of good advice to the interested audience:
– We need to bring our best unique selves to this work: asking 'what is a good academic life for me'; leading ourselves by knowing who we are (our why, values, strengths), what is important to us; and leading others through everyday prosocial interactions and kind connections, as well as advocating together for bigger system change, explains Geraldine Fitzpatrick.
Ask yourself, what difference you want to make in the world and what mark you want to leave? What you say yes or no to? When we start to think about ourself we can start leading others. Everyday small things matter.
After this much appreciated keynote, the cloud-based collaboration tool Miro was used for the ice-breaking activity and to encourage participation (beyond the Zoom chat) in some of the panels. If you are not yet familiar with the tool (miro.com) it's a solution that features a digital whiteboard that can be used for research, ideation, building customer journeys and user story maps, wireframing and a range of other collaborative activities.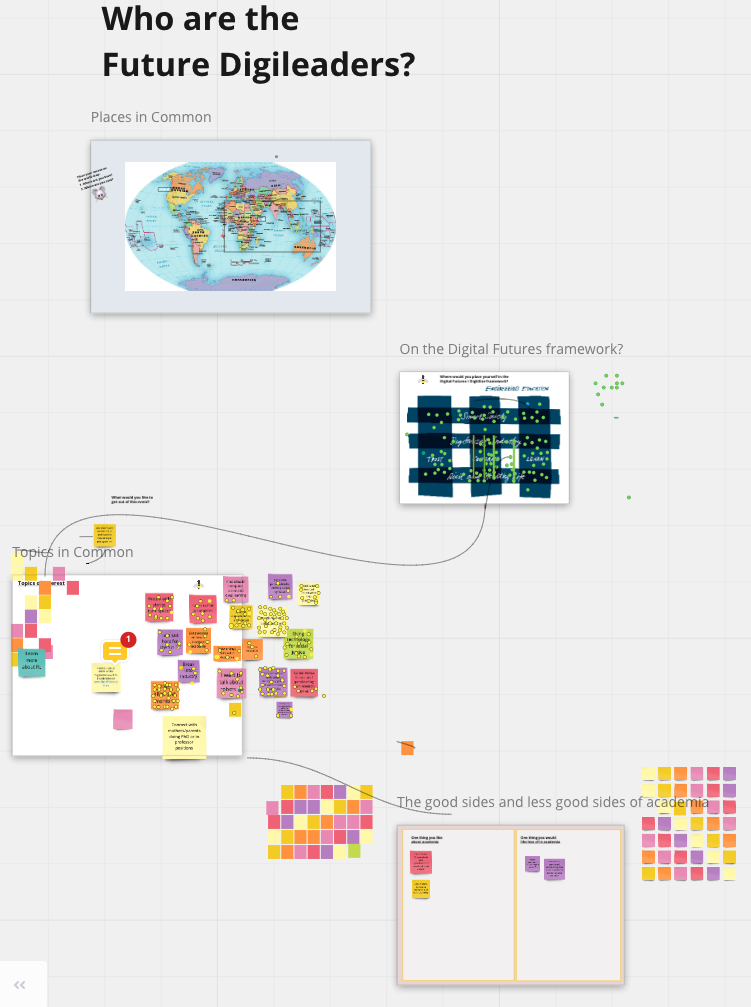 The rest of the afternoon hosted panels with focus on three different topics; Alternate Career Paths, Leadership & Re-thinking the Academic Life and What to Expect from an Academic Career?
Some advice provided by one of the panellists were to grab opportunities when you get them – do not sit and wait and to look out for each other and pay it forward. Another panellist stated that if you decide to stay in academia but you want to have a foot in industry, it is good to have an industry mentor that can confirm that what you are doing is relevant to industry. It is a long journey and you have to be patient. Your manager is important.
The differences and similarities between research work in industry and academia were debated. Good communications and soft leadership skills were seen as important for success, as well as making connections with the "right people". Also gender and culture were among the topics discussed.
Iolanda Leite recognized three key points emphasised by the mentors:
– First to think of what you want to do and achieve, more than which title you want to have. Second, that it is OK to say no and prioritize because our time is valuable (and the only thing we cannot control) and third that research is only one aspect of our life, finding balance in other things (family, hobbies, keeping healthy, etc.) is extremely important to keep us productive, says Iolanda Leite.

– Although in a digital format, the event was interactive – it was great to see the Zoom chat always active with not only questions for the speakers and panellists but also with interactions between the Digileaders, concludes Iolanda Leite.
The event was indeed much appreciated. Eva Szekely – researcher at KTH, summarized it well:
– The event today was so so so nice!! I'm so grateful to get to be part of this! A brilliant keynote, great panels, and generally a lovely atmosphere. It was incredibly well organised, I mean, meaningful interactive activity with 80 participants!! Definitely a first for me. And the way the breakout rooms were set up was also really nice. We had a good conversation in the room I was in, and I might end up collaborating with one of the girls. I've been missing conferences so much; it was awesome to be able to do this today. THANK YOU, says Eva Szekely.