Bye-bye Chathuranga Weeraddana – Digital Futures Scholar in residence March to May
Pradeep Chathuranga Weeraddana – Digital Futures Scholar in residence from March to May – received the M.Eng degree in Telecommunication from the School of Engineering and Technology, Asian Institute of Technology, Thailand in 2007 and the PhD degree from the University of Oulu, Finland, in 2011.
He worked as a postdoctoral researcher in Automatic Control Lab, Electrical Engineering Department and ACCESS Linnaeus Center, KTH Royal Institute of Technology, Stockholm, Sweden from 2012 to 2014. From 2015 to 2017, he worked as a senior lecturer at the Department of Electrical and Computer Engineering, Sri Lanka Institute of Information Technology, Malabe, Sri Lanka. He is currently working as a senior lecturer in the Department of Electronics and Telecommunications, University of Moratuwa, Sri Lanka.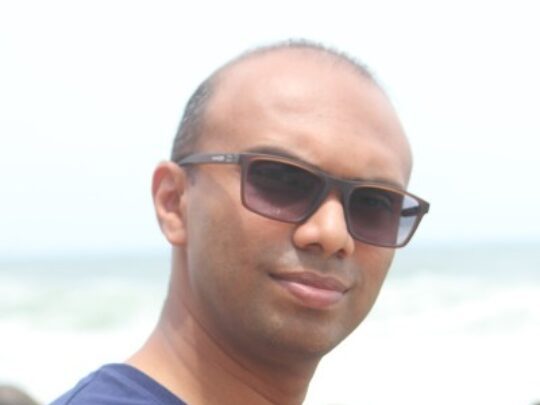 Hi Chathu, you studied in Thailand and Finland and you have worked as a postdoctoral researcher in Sweden and as a senior lecturer in Sri Lanka. In the last couple of months, you have visited Digital Futures as a scholar-in-residence. It looks like you enjoy travelling and exploring new places. How come?
– Of course, I enjoy travelling. Visiting KTH and Digital Futures was indeed a wonderful experience that allows me to meet many fascinating scholars. I am so thankful to Carlo Fischione for making me aware of the Digital Futures Scholar-in-Residence program and for Karl Henrik Johansson, as the Director, of Digital Futures for giving me this opportunity.
 Your interests include the application of optimization techniques in various application domains, such as signal processing, wireless communications, and smart grids, among others. Why do you find this so fascinating?
– As far as research is concerned, of course, there are very many fascinating domains. My background is essentially concentrated on signal processing and communication theory. When doing research in those domains I had to learn mathematical optimization as a tool. I was intrigued by listening to freely available online lectures on mathematical optimization by Stephen P. Boyd – at Stanford University. Thanks to Boyd, I start seeing the beauty and the applicability of mathematical optimization despite its application domains. Thus, it is indeed fascinating. I am still reading and expanding my knowledge of related theories.
During April and May, you have lectured at the Digital Futures hub. Tell us a bit about this 7-weeks PhD course on MM Optimization Algorithms with Machine Learning Applications. What was the objective?
– There were a couple of objectives entangled with each other. First of all, I wanted to learn the MM principle. Secondly, I was supposed to engage with the Digital Future with some sort of relevant dissemination activity. My stay at Digital Futures was an ideal period for blending and achieving these objectives. Teaching the related theories to graduate students entails scrutinizing the content. In addition, the set of graduate students who enrolled for the course was a fascinating forum to discuss related technicalities and to jointly learn the content.
Finally, tell us a little bit about yourself!
– I am currently living in Colombo. I have two kids, a boy, 9 years old, and a girl, 3 years. My wife is a primary school teacher. I like reading and travelling. I also like playing badminton.
Your scholarship ends on 31 May – what has your experience been like and what are you going to do next?
– I really enjoyed the ecosystem of Digital Futures. I am really happy to be a part of it at least for a few months. Very soon I am migrating to Finland together with my family. Hope to visit once again.