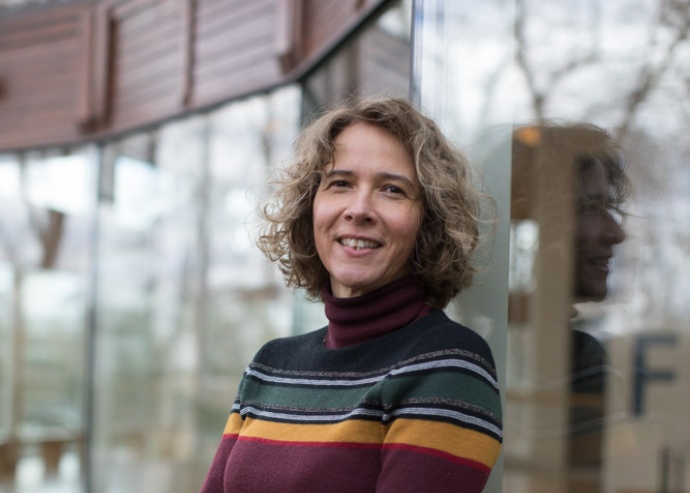 Jelena Zdravkovic – new Associate Director for Diversity & Inclusion at Digital Futures
Meet Jelena Zdravkovic, Professor and Head of Department of Computer and Systems Sciences at Stockholm University and new Associate Associate Director for Diversity and Inclusion at Digital Futures succeeding Uno Fors. Jelena is also a member of the Executive Committee.
Jelena received her BSc and MSc in Electrical and Computer Engineering Sciences from the University of Belgrade in 1992 and 1996. In 2004, she received an MBA in E-commerce. In 2006 she received her PhD in Computer and System Sciences from KTH Royal University of Technology and in the same year, she became an assistant professor at KTH, and later moved to Stockholm University.
Hi Jelena and welcome to Digital Futures, describe your role at Digital Futures?
– I coordinate the Diversity and Inclusion topic, which I find as fundamental for producing sustainable, even best science discoveries and results. Digital Futures, in my view, should strive to solicit applications from a variety of research communities, to call for engaging researchers from all over the world i.e. regardless of their origin and gender, so that the best proposals and candidates are included and finally selected.
You have published a number of cited papers, you're a guest editor for international journals, have been involved in several national and international projects, and organized a number of international conferences and workshops. You are also teaching and supervising PhD students. From where do you get the energy and what drives you?
– The answer is quite simple – I am an enthusiastic person, the dynamics and internationalization of the academic work, and the possibility to collaborate with young people – students, are my major driving reasons.
Your latest interests include Data-driven Requirements Engineering and the development and analysis of Digital Business Ecosystems. Why do you find this so fascinating?
– I am teaching Requirements Engineering for over 15 years – it is a discipline where interviewing human stakeholders to elicit new system requirements has been the dominating activity. But today, owing to the emergence of digital data sources starting from social media to sensors and computer logs, we are obtaining entirely new sources of requirements, which are producing huge amounts of data, continuously, and where an amazingly interesting challenge is to from such raw data mine new requirements for existing software applications such as games, retail platforms, online banking, music streaming, and many other. As for my current research in Digital Business Ecosystems, where a highly appealing challenge refers to mimicking nature's ecosystem and its main features such as diversity, adaptability, flexibility, efficiency – and accordingly find and design their digital paradigms.
Finally, tell us a little bit about yourself!
– I was born and raised in Belgrade, former Yugoslavia, Serbia today. I worked several years as development engineer for enterprise-wide software systems before moving with my family to Sweden in 2001, completing my PhD at Royal Institute of Technology (KTH) in 2006 and working at Stockholm University since 2008. In my free time, I enjoy playing tennis and skiing with family and friends, and especially – diving into classical art and fiction when I am alone.
Photo: Stockholm University