I have developed a better understanding of approaching and handling problems of a research-oriented nature.
Next out in our series of interviews is Giorgio, taking part in Digital Futures Summer Research Internships (SRI) Programme. The SRI programme was directed towards students on the bachelor and master level who were given the opportunity to conduct research under the guidance of researchers affiliated with Digital Futures. Meet some of the students in this series of interviews.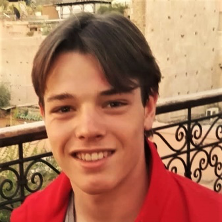 Meet Giorgio Sacchi, an engineering physics student at KTH that just finished his bachelor and now starts his master's in applied mathematics.
Why did you decide to apply for this internship?
I decided to apply because I really enjoyed the course in control I took as part of my bachelors' program, and I wanted to further explore the subject. Also, I applied because I saw the internship as an opportunity to examine academia and the future possibilities it presents..
Tell us a bit about the project you are working on – any surprise or challenge you came across?
Mainly, I have been helping a PhD student with his research on the security and privacy of smart home sensors. In essence, the goal is to study the sensitivity (from a privacy standpoint) of sensor data if a "hacker" managed to obtain it and what a "hacker" could learn about what is happening in the building.

My task has been to develop and apply linear classification algorithms to see if these can be used to differentiate between different building activities and identify what types of sensor data are the most sensitive. So far, the main takeaways have been that it is possible to use linear learning methods relatively effectively for this problem. Secondly, nearly all the relevant information can be reduced to three primary aspects of the measured data.
Any learnings from various parts of the SRI program?
Personally, I have learned a lot from interacting with all the PhD students at the faculty. They have been accommodating in sharing their experiences and advice for future studies and work. It has also been fascinating to see how they approach their own research and methods to solve various problems.
What about your plans for the future? How does this internship connect with those?
I think the program has really opened my eyes to the possibility of a PhD and the decision control field. However, regardless of whether I choose to continue in academia, I feel that I have developed a better understanding of approaching and handling problems of a research-oriented nature.