This internship has encouraged me to deepen my theoretical knowledge to tackle ubiquitous and essential problems
As part of the Digital Futures initiative's goal of offering training in the new Science of Digital Transformation, a Summer Research Internships (SRI) Programme was organised during the summer. The SRI programme was directed towards students on the bachelor and master level who were given the opportunity to conduct research under the guidance of researchers affiliated with Digital Futures. Meet some of the students in this series of interviews.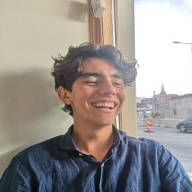 Meet Pascal Capetillo that recently finished a bachelor's degree in Engineering Physics at KTH in Stockholm.
Why did you decide to apply for this internship?
I decided to apply for the Digital Futures internship at Decision and Control Systems (DCS) after finishing a course in linear systems design. My impression was that the subject and its generalisation provided an exciting environment to apply complex theoretical frameworks to solve genuine real-life problems.
Tell us a bit about the project you are working on – any surprise or challenge you came across?
My project is about designing electrical grids so that they become more resilient against attacks. Specifically, I want to implement an algorithm to find the best grid configuration (i.e. which circuits to open or close) to defend against a power injection attack on the distribution system.

I have finished formalising the problem and choosing an algorithm that I am currently implementing to solve it. The project combines mixed-integer optimisation theory, game theory, linear algebra, and electrical systems theory. Many of the areas I have encountered have been entirely new to me. With the guidance of my mentors, I have gotten the chance to tackle them during the internship. The presentations, surprisingly, require much more time than I anticipated to prepare for.

The biggest challenge is just how independent the work is, especially since the total time on the project is relatively brief.
Any learnings from various parts of the SRI program?
The panels and presentations provided by the SRI program are excellent. They are spread out in the subject. There are many presenters from different backgrounds and universities, which makes each session feel unique and valuable. My favourite parts so far have been learning more about graduate students' lives and what to think about when applying for grad school.
What about your plans for the future? How does this internship connect with those?
My future short-term plan is to pursue a master's degree in mathematics. The internship has encouraged me to deepen my theoretical knowledge to tackle the ubiquitous and essential problems that I got a taste for during my training. Down the line, I am strongly considering pursuing a doctorate. My internship has also swayed me towards that by getting the chance to interact with PhD students.