Seminar on Soma Design by Kristina Höök
Kristina Höök gave a truly interesting and engaging seminar on Soma Design. What is Soma design you might ask? Well, it draws upon the theories of Richard Shusterman on somaesthetics, joining the two words "soma" and "aesthetics", where soma is our "living, purposive, sentient, perceptive body or bodily subjectivity" and aesthetics is the process of training your sensory appreciation abilities, allowing for "an awakening from the mindless, joyless behaviours" of everyday life.
The seminar started out with a fun, collective bodily exercise as an introduction to the Soma design concept. If you have tried out mindfulness, you would have been familiar. Höök went on to exploring how humans, with feelings, impressions and expressions, can interact with others and with physical materials and technology – and designing products from that.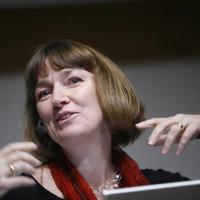 About Kristina Höök
Kristina Höök is a professor in Interaction Design at the Royal Institute of Technology and also works part-time at RISE. Her research interests include affective interaction, somaesthetic design, internet of things and anything that makes life with technology more meaningful, enjoyable, creative and aesthetically appealing.
She recently wrote a book, Designing with the Body – Somaesthetic Interaction Design that you find here: mitpress.mit.edu/books/designing-body