Scientific Machine Learning: An Overview with Applications to Inverse Problems
Date and time: 25 May, 15:00 – 16:00 CEST (UTC +2)
Speaker: Ozan Öktem, KTH Royal Institute of Technology
Title: Scientific Machine Learning: An Overview with Applications to Inverse Problems
Zoom: https://kth-se.zoom.us/j/69560887455
Meeting ID: 695 6088 7455
Password: 755440
Watch the recorded presentation here: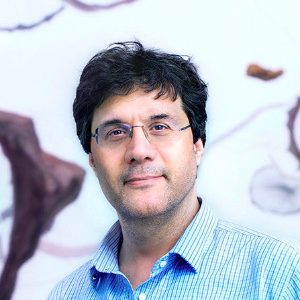 Abstract: 
Scientific Machine Learning is an emerging research area focused on the opportunities and challenges of machine learning in the context of complex applications across science, engineering, and medicine. Challenges in these fields have attributes that make them very different in nature to computer science applications where data-driven machine learning has found success. The talk will try to provide an overview of Scientific Machine Learning with emphasis on its recent application to solving large-scale ill-posed inverse problems.
Bio: 
Dr Öktem specialises in theory and algorithms for solving severely ill-posed inverse problems with an emphasis on tomographic imaging. He worked as an applied mathematician for more than 13 years in the industry and returned to academia in 2009. He is currently a chaired professor at the School of Mathematical & Computer Sciences, Heriot-Watt University in Edinburgh and Docent at Department of Mathematics, KTH – Royal Institute of Technology in Stockholm. The research by Dr Öktem lies in the intersection of mathematical analysis, differential geometry, mathematical statistics, and machine learning. The focus lately has been on combining model-based approaches with deep neural networks for uncertainty quantification and task adapted reconstruction in large scale inverse problems. Work is spearheaded by concrete challenges in imaging applications from various scientific fields, like 3D electron and fluorescence microscopy in bioimaging, low-dose clinical CT and spatiotemporal PET/CT, X-ray phase-contrast tomography for bioimaging and material sciences, and lately seismic tomography for geophysical prospecting and single-particle cryo-EM.