Digital Futures Diversity & Inclusion workshop
Date and time: 24 May 2023, 09:30 – 15:30 CEST (UTC +2)
Title: Digital Futures Diversity & Inclusion workshop
Where: HYBRID event at Digital Futures hub, Osquars Backe 5, floor 2, KTH main campus

Directions: https://www.digitalfutures.kth.se/contact/how-to-get-here/
A maximum of 50 participants are onsite at the Digital Futures hub. First-come, first-served basis.
Link to registration: https://www.kth.se/form/642d169dfb06ea3cb9293ceb

The Zoom link will be distributed upon registration.
Organised by Digital Futures in collaboration with NCCR Automation and Einstein Center Digital Future.
Welcome to the Digital Futures workshop on Diversity & Inclusion for Sustainability. Diversity, inclusion and equality are increasingly pointed out as crucial for the successful development of society. Digital transformation is no exception, and, e.g. digital systems are often not designed for persons with disabilities. The majority of digital innovations and ICT research is performed in high-income regions, and the gender balance at universities is still not equal.
PROGRAM
09:30-10:00  Registration & Coffee
10:00-10:10  Welcome and Introduction
Jan Gulliksen, Professor in Human-Computer Interaction KTH since and Vice President for Digitalization at KTH.
10:10-10:50  KEYNOTE: Technology to support older people living independently: robots and drones
Speaker: Professor Emeritus Helen Petrie
Abstract: The population of most societies is ageing rapidly, with more older people and fewer younger people caring for older people.  Older people want to remain in their own homes as long as possible, and overall this is a less expensive option than specialist accommodation but it comes with a number of challenges. Numerous technologies are being promoted as alternatives or supplements to human care for older people in their own homes, particularly instrumented smart home technologies and robots.  An option which may have some advantages but which has been less explored is the use of small drones.  This talk will discuss a number of studies at the University of York with older people about the use of robots and drones to support them in living independently, the potential of these technologies and older people's attitudes towards them.
10:50-11:30  Let's embrace our unconscious biases – towards inclusive and creative environments
Speaker: Dr Elise Cahard, Manager of the Swiss National Centre of Competence in Research (NCCR) Automation, hosted at ETH Zurich
11:30-12:10  Gender Diversity
Speaker: Professor Gesche Joost, Einstein Center Digital Future, Berlin
12:10-13:10  LUNCH
13:10-14:00 Equality and inclusion for sustainability
Speaker: Associate Professor Anne-Kathrin Peters, KTH Royal Institute of Technology
14:00-15:30  PANEL discussion
Moderator: Professor Jan Gulliksen, KTH Royal Institute of Technology
Panellists: Helen Petrie, Elise Cahard, Anne-Kathrin Peters and Stefan Johansson
End of Day
SPEAKERS
Prof. Petrie is a Professor of HCI in Computer Science. She has over 20 years of internationally-recognized research on new technologies for people with disabilities and older people to improve their quality of life and well-being. Her current interests are particularly in the area of supporting older people to live independently in their own homes for longer. She has been involved in over 30 British and international projects in these areas and has published widely.
She has received a Royal Television Society Technical Innovation Prize, a Social Impact Award from the Association of Computing Machinery, and a Lifetime Achievement Award from the Royal National Institute for Blind People. She is a Chartered Psychologist and Associate Fellow of the British Psychological Society.
Elise Cahard is the manager of the Swiss National Centre of Competence in Research (NCCR) Automation, hosted at ETH Zurich. She previously worked for four years at the French National Research Agency (ANR) as Scientific Project Officer.
Elise holds a Chemical Engineering degree from ESCPE (France), an MPhil from the University of Strathclyde (UK) and a PhD in chemistry from the University of Cambridge (UK), and previously worked at GlaxoSmithKline and Sanofi-​Aventis in R&D positions.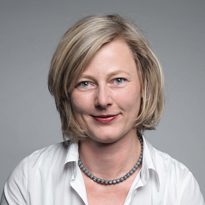 Gesche Joost is a Professor of Design Research at the Berlin University of the Arts, researcher, founder, political advisor and tech consultant. She focuses her work on digital transformation and its implications on our society both in her research practice and at the policy level. She serves on the executive board of the Einsteincenter Digital Future in Berlin. She runs a research lab (www.drlab.org) with her research groups at the German Research Centre for Artificial Intelligence, which specializes in human-computer interaction and wearable computing, and the Weizenbaum Institute in Berlin. 
From 2014 to 2018, she served as the German government's Federal Internet ambassador to the European Commission. Since 2015, she has been a member of the supervisory board of SAP, ING and ottobock. In 2016, she founded Calliope gGmbH (www.calliope.cc), a nonprofit organisation offering children digital learning. Joost was a Digital Futures Scholar-in-residence from August 2022 to March 2023.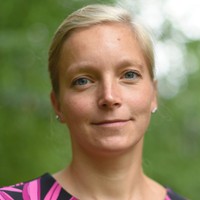 Anne-Kathrin Peters is an Associate Professor in technology education at KTH Royal Institute of Technology in Sweden. She works with and leads educational transformation towards sustainability, especially equality and justice. Her research has been on norms, values, and identities in computing and engineering education and how they are produced in power relations in university education and may change. Together with colleagues, Anne is establishing a new research group on sustainability, technology, and education at KTH.
Anne has moved between several research communities in the past years, including computing education, science and technology education, ICT for sustainability, feminist technology studies, education for sustainability, and futures studies. Until 2021, she was a researcher and teacher at the Department of Information Technology at Uppsala University (UU) and a member of the Uppsala Computing Education Research Group (UpCERG). At UU, she coordinated the Climate Change Leadership initiative at the Department of Earth Sciences, which is a sustainability initiative to establish cross-disciplinary and -institutional research collaborations on societal transformation and climate action. Anne has an education and computing degree from Germany and has also worked as a high school mathematics and computer science teacher.
Stefan Johansson has a PhD in Human-Computer Interaction and is affiliated faculty to the School of Electrical Engineering and Computer Science, Department of Media Technology and Interaction Design. He is also the CEO of Begripsam AB, where I work as an accessibility consultant.
Stefan Johansson has been working with accessible information and communication for almost 30 years. He participated in the development of the first guidelines for an accessible state administration by the then Disability Ombudsman in Sweden. He was also hired as an expert when the then-Swedish Agency for Public Management developed what is now known as the Swedish guidelines for public sector web services. Stefan has extensive collaboration with organisations in the disability rights movement and with researchers in a range of research disciplines related to people with disabilities, human rights, digitisation etc.
Stefan is well versed in the different rights legislations and applying the different perspectives in these, such as child perspective, and gender equality. Stefan is active in international standardisation, mainly in the field of cognitive accessibility.
Jan Gulliksen has been Professor in Human-Computer Interaction at KTH since 2009, and Vice President for Digitalization at KTH. Before this, he was a Professor in Human-Computer Interaction at Uppsala University, where he did his Master's in Engineering Physics and a PhD in Systems Analysis.
Gulliksen was a Guest Professor at Uppsala University and has been a Visiting Professor at INSEAD. He served as the Dean of the School of Computer Science and Communication (CSC) from 2011-2017.
Organisation chairs
Prof. Jelena Zdravkovic, Head of the Department of Computer and Systems Sciences, Stockholm University and Associate Director for Diversity & Inclusion, Digital Futures
Sissi Rizko, Program Manager Digital Futures
Johanna Gavefalk, Chief Communications Officer, Digital Futures