Unraveling the potential of AI and Earth Observation for accurate population predictions in urban regions (POPAI)
September 2021 – August 2023
Objective
The project aims to fill urban population data gaps in developing countries by harnessing the power of Earth Observation (EO) data and AI. An innovative framework will fuse high-resolution satellite information with ancillary sources, such as Volunteer Geographic Information data and machine learning. The long-term goal of POPAI is to understand better the synergy and potential of AI and EO towards scalable population mapping, help address the United Nations Sustainable Development Goals, support evidence-based policymaking and foster a better future for the cities of tomorrow. 
Background
Accurate urban population distribution information is necessary prerequisites for a wide range of applications related to urban sustainability. The quality and quantity of population data in numerous countries are often inadequate due to the absence of detailed censuses or large temporal gaps between them. The disparaging effects of this lack of information are most evident in Sub-Saharan Africa (SSA) and the Global South. As estimated by the UN, more than 60% of the African population will reside in cities by 2050, which further emphasizes the need for accurate population information.   
About the Digital Futures Postdoc Fellow
Stefanos Georganos is a research fellow at the Division of Geoinformatics, Royal Institute of Technology. He does research in quantitative human geography, remote sensing, spatial epidemiology and machine learning. He is particularly interested in the use of geo-information to help address the UN Sustainable Development Goals, with a geographical interest in sub-Saharan African cities. His latest research unravels the potential of Artificial Intelligence and Earth Observation to detect, measure and characterize socio-economic inequalities in deprived urban areas in support of the most vulnerable populations.
Main supervisor
Yifang Ban, Professor and Head of Division Geoinformatics at KTH
Co-supervisor
Anders Wästfeldt, Professor at Stockholm University
Watch the recorded presentation at Digitalize in Stockholm 2022 event:
Contacts
Stefanos Georganos
Digital Futures Postdoctoral Fellow, Postdoc project: Unraveling the potential of AI and Earth Observation for accurate population predictions in urban regions (POPAI)
stegeo@kth.se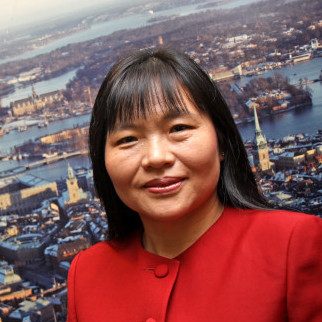 Yifang Ban
Professor and Head of Division Geoinformatics at KTH, Member of the Executive Committee, Associate Director for Dissemination & Impact, PI of research project EO-AI4GlobalChange, Supervisor for Postdoc project Unraveling the potential of AI and Earth Observation for accurate population predictions in urban regions (POPAI), Supervisor for Postdoc project Fusion of Radar and Optical Remote Sensing Time Series for Wildfire Monitoring with Deep Learning, Digital Futures Faculty
+46 8 790 86 48
yifang@kth.se
Anders Wästfeldt
Professor at Stockholm University, Co-Supervisor for Postdoc project Unraveling the potential of AI and Earth Observation for accurate population predictions in urban regions (POPAI), Digital Futures Faculty
08-16 48 56
Anders.Wastfelt@humangeo.su.se